---
RBCap is a high performance, full featured Video Capture application designed
for Windows XP, Windows 2000, Windows ME, Windows 9x and Windows NT 4.0.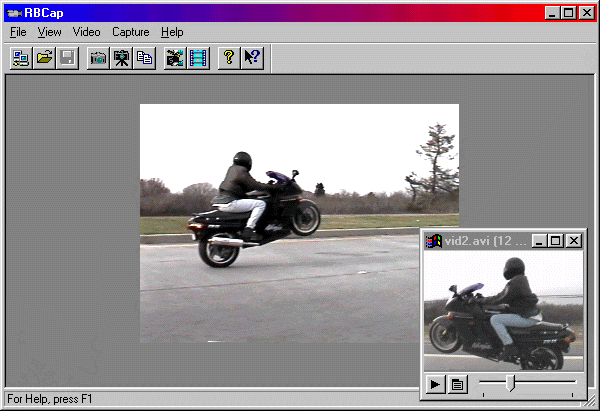 RBCap sports the following features:
Watch live Audio/Video
Capture live Audio/Video
FTP upload support for Webcam usage
Full-Featured time-lapse Audio/Video capture
Full-Featured time-lapse frame capture
Full-Featured time-lapse picture capture
Compress captured video in AVI format
Capture still 'Snapshot' pictures from live video
Save Snapshot pictures in BMP or adjustable JPEG format
Create an AVI file from manually captured frames
Fully adjustable capture settings
Open AVI, WAV, AU, and MIDI files in multiple Media Playback Windows
View live Audio/Video Full Screen
Capture up to 3 hours of video at 30FPS in a single AVI file
Capture multiple video sequences without stopping to change names
Hide or Show the RBCap Menu and Window Caption Line
Run from the Task Bar or the System Tray
Right-Click Context Menu
Context Sensitive Help
Complete Install/Uninstall support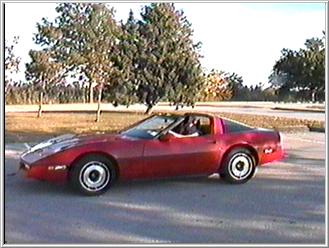 You can minimize RBCap's desktop footprint by hiding
the Toolbar, Status Bar, Menu and Caption Line.


You can run RBCap from the Task Bar.
Or


You can save desktop space by running RBCap from
the System Tray, next to the Clock.
To use RBCap you need the following:
Windows 9x, Windows Me, Windows 2000, Windows NT 4.0, or Windows XP
A video capture device that is compatible with Video for Windows
Correctly installed Video Capture drivers
Check your Multimedia Control Panel to
verify the presence of a Video Capture device.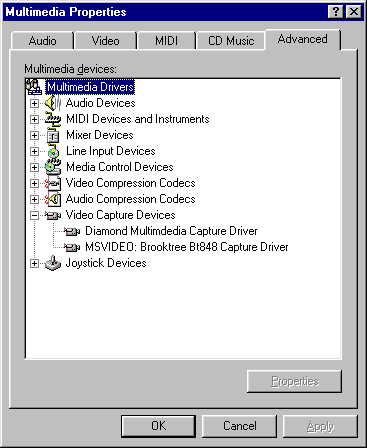 Install/UnInstall Procedures:
To install RBCap run RBCSetup.exe and follow the on-screen instructions.
You can delete RBCSetup.exe after the installation completes.
If you wish to uninstall RBCap use your Add/Remove Programs Control Panel.
Upgrade Procedure:
Please uninstall any older versions of RBCap before installing the current version.
>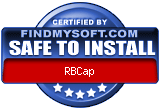 RBCSetup.exe is a limited Shareware version of RBCap.
It should be used to confirm compatibility with your hardware.

This shareware version will automatically close after every
7 minutes of use and some of its features are disabled.
A full featured version can be purchased for $15.
Click here to download RBCSetup.exe

(1726 KB)
Current version
4.1
Build Date
15-Jan-2001
Version History
Click the applet at
the top of this page.
Developed with



RBCap requires the following Run-Time Libraries:
MFC42.dll
MSVCRT.dll
CTL3D32.dll
COMCTL32.dll
These files are included in my Setup procedure.


If you like Java, Sports Cars, Motorcycles, and Multimedia click the 'Start' button to visit my homepage. You will find lots of RBCap samples in the 'Movies' section of my 'Motorcycle Archives'.