My PC
November '97
Sorry, but this page is outdated. I replaced this PC in Dec 2001 with a custom built P4. I also bought a new house and said goodbye to paneling forever :-)

---
I custom built a powerful multimedia PC for my personal use. This entire site was developed using my PC.

I used the following components:


Intel AL440LXNA. It features:
Intel 440LX AGP PCIset.
Slot 1 Pentium II 333 Mhz CPU with 512k Cache.
128MB SDRAM. (Three 168-pin Dimm Slots for up to 384MB).
Accelerated Graphics Port (AGP).
Universal Serial Bus (USB) connectors.
2 Bus-Mastering PCI EIDE Ultra DMA/33 controllers (Up to 4 devices).
4 PCI slots, 2 ISA Slots, 1 PCI/ISA is shared.
National PC97307 Super I/O controller. (2.88MB Floppy Port (controls 2 devices), 2 Serial Ports, EPP/ECP bi-directional parallel port, IrDA infrared interface, etc..).
Phoenix Flash BIOS with full Plug and Play support.
---
Video Card
Diamond Stealth II G460.
True AGP 2X Acceleration.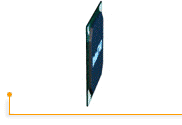 i740 Graphics Controller
8MB 100MHz SDRAM.
203 MHz DAC.
DirectX and OpenGL support.
Flash EPROM for downloadable BIOS upgrades.
---
Video Capture Card
Intel Smart Video Recorder III.
Captures 320x240x24bpp @ 30fps.
32-bit PCI card, full PnP support.
Brooktree BT848 video chip.
Supports NTSC, PAL, SECAM, composite, and S-Video inputs.
---
Dxr2 DVD/MPEG Card
Creative Labs Dxr2 PCI card
DynamicXtended Resolution (Dxr2) picture enhancement technology
Onboard connectors for audio output to sound card
Audio input from DVD-ROM drive CD-ROM drive
Back-panel connectors for RCA jack S/PDIF out, VGA output, VGA input, S-Video and composite video output
Playback MPEG-2, MPEG-1, and DVD 1.0 video at up to 30 frames second (NTSC)
Playback Dolby Digital (AC-3) 5.1 channel audio, stereo audio, linear PCM audio, and MPEG audio (Video CD)
TV output includes support for NTSC, PAL, Composite and S-video signals
---
Sound Card
Creative Labs Sound Blaster 32 PnP.
Wave-Table Synthesis.
E-mu Systems® EMU8000 sound and effects generator.
16 channel, 16 voice multi-timbral capability and 32-voice polyphony.
128 instruments, 10 drum kits.
Creative 3D Stereo Enhancement Technology.
8-bit and 16-bit selectable mono and stereo sampling and playback.
Sample and playback rates from 5 kHz to 44.1 kHz.
20-note, 4 operator, stereo music synthesizer.
Music synthesis can be enhanced with reverb & chorus.
1MB ROM of sound samples.
2MB DRAM installed in the 2 30-pin SIMM sockets provided for user upgrade.
Balance, bass and treble control.
4 Watt amplified output.
IBM® compatible 15-pin joystick port (doubles as a MIDI port).
IDE CD-ROM interface. ** Currently Disabled **
Full Plug and Play Support.
---
SCSI card
PCI local Bus.
10 MBytes/second transfer rate.
SCSI-2, ASPI compliant.
Full PnP support for up to 7 SCSI devices.
Termination is single-ended, active, and automatic.
---
CD-ROM Recordable
Hewlett Packard SureStore CD-Writer 4020i.
600 kBytes/sec (Quad speed) reading.
300 kBytes/sec (Double speed) recording.
Reads/Records data and audio CD's.
650 MBytes data capacity.
74 minutes audio capacity.
ASPI-compliant SCSI interface.
---
DVD-ROM
Creative Labs PC-DVD x2 Drive.
Maximum data transfer rate of 2,700KB/second (2x DVD) and 3,000KB/second (20x CD)
Average data access time of 170ms (DVD) and 100ms (CD)
512 KB integrated buffer memory
Supports CD-Audio, CD-I, CD Extra, CD-ROM, CD-ROM/XA, Photo CD®, CD-R, DVD-ROM, Video CD, and DVD-Video
DVD-ROM data capacity of 17GB (dual layer, double-sided)
CD-ROM data capacity of 748MB (mode 2) and 656MB (mode 1)
---
Hard Drives
1 Western Digital 8400RTL.
8.4GB, 9.5ms access time, Ultra DMA Mode 2 33.3MB/s, 256K cache, 5400rpm.
1 Western Digital AC34300.
4.3GB, 11ms access time, Ultra DMA Mode 2 33.3MB/s, 256K cache, 5400rpm.
1 Western Digital AC31600.
1.6GB, Sub 10ms access time, PIO Mode 4 16.6 MB/s, 128K cache, 5200rpm.
---
Floppy Drive
Teac 1.44 MB 3.5 inch floppy.
---
Modem
US Robotics Sportster 56K Data/Fax Modem.
US Robotics x2 Technology for 56K downloads
True V.34+ with V.FC
Internal version
Full Plug and Play Support.
---
Case
8 Bay ATX Mid Tower with a 250 watt power supply.
---
Hewlett Packard DeskJet 693C.
Optional Photo Color Kit for printing Photo-quality pictures in 6 colors.
Up to 5 ppm in black and 1.7 ppm in color.
600x600 dpi in black, 600x300 dpi in color.
HP RealLife Imaging System with Resolution Enhancement technology (REt) and HP ColorSmart.
HP PCL Level 3.
IEEE 1284 Bi-Di parallel interface.
512Kb built in RAM, 32 Kb receive buffer.
---
24-bit color, single-pass flatbed scanner.
Linear array CCD with daylight fluorescent lamp.
300x600 dpi optical resolution, 2400x2400 dpi interpolated resolution.
8.5"x13.5" Maximum scan area.
ASPI-compliant SCSI interface.
---
MAG Innovision DX-17F.
17 ", dark tinted, flat square tube.
0.26 mm dot pitch.
1280x1024 Non-interlaced maximum resolution.
---
Microsoft Natural Keyboard.
104 Keys, Ergonomic design.
1280x1024 Non-interlaced maximum resolution.
---
Microsoft IntelliMouse.
Ergonomic design.
One-step zoom and scroll with the Wheel (In between the 2 mouse buttons).
Programmable Wheel button.
---
Microsoft Sidewinder Game Pad.
Eight way direction pad, Six gaming buttons, and two trigger buttons.
Game port allows daisy chaining of game pad.
Game device profiler maps multibutton moves or keystroke combinations to a single button.
Ergonomic design.
---
Yamaha YST-M10 powered monitor speakers and YST-MSW10 Subwoofer System.
YST-M10:
10W per channel, Active Servo Technology.
Full-range 3.5 inch magnetically shielded drive unit.
80Hz ~ 20kHz (+-)3dB Frequency Response.
Light Grey finish.
YST-MSW10:
25W mono, Active Servo Technology.
6.3 inch cone woofer, magnetic shielding.
35 to 250Hz (-10dB) Frequency Response.
Features High/Low cut filter, volume control, and auto power on/off.
Black finish.
---
Iomega Zip Drive.
SCSI interface.
External model.
Uses 100MB Zip disks.
29 millisecond seek time.
Up to 60MB per minute transfer rate.
Iomega Ditto Max.
External EPP parallel port drive.
Tray loaded drive uses 3GB, 5GB, and 7GB tapes.
Flash!File technology accesses files in a 125MB area in an average of five seconds from a loaded tape.
Average backup time: 19MB per minute.
2.0 Mb/sec to 4.0Mb/sec Data transfer rate.
---
APC (American Power Conversion) personal power manager.
4 switched outlets, 1 unswitched outlet.